Upload any picture of Ice Queen here, just as long as its appropriate.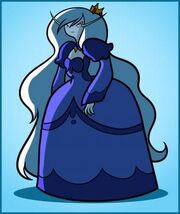 The Ice Queen's final designs differ from that of her initial designs, and this is because Natasha wanted her dress to resemble the dresses worn by Anastasia and Drizella, the mean step sisters from the Disney film Cinderella.
Like how the Ice King's source of power is in his crown, Ice Queen's is based in her tiara, which even Cakeuses for an ice attack at one point.
The Ice Queen's eyebrows are the equivalent of the Ice King's beard, allowing flight.
The Ice Queen refers to Fionna as a "tomboy."
In Natasha's drawing, Ice Queen was the previous owner of Cake, who cared for her as a kitten.
Fionna warns Cake about Ice Queen's tiara, saying that it makes people evil when they wear it. This would seem to resemble Ice King's origin story in "Holly Jolly Secrets Part II."
It is possible that Ice Queen's more evil personality and cunning is based on what Ice King believes himself to be like or he made her like this to make him sound more tough, as it was he that wrote this story.
According to Natasha, the Ice Queen's backstory is completely different from that of the Ice King, meaning she acquired her tiara in a different way, to that of the king's crown.
She, unlike Ice King, can do a perfect imitation of Prince Gumball, while Ice King's imitation of Princess Bubblegum is horrible.
While the Ice King is always barefoot, the Ice Queen wears shoes.
Community content is available under
CC-BY-SA
unless otherwise noted.