Upload any pictures of Marshall Lee here, but just make it appropriate.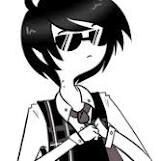 http://lydiallama.deviantart.com/art/Marshall-Time-Fionna-s-Fright-fanimation-321723707
He and Marceline both have regular electric bass guitars, as seen in the openings.
Rebecca Sugar said that she fought for Marshall Lee to have a few lines (such as "Whoa, Fionna! You're wearing a dress? That is cra-azy, son!), but they were cut for time. She wanted him to be voiced by Dante Basco.
Marshall Lee floats leaning backwards, back to the ground, and knees bent whereas Marceline floats, knee back, chin up, and leaning forwards.
Marshall Lee had 10-11 seconds on screen.
In an interview with Pendleton Ward at Comic-Con, he stated that the next genderbent episode would mostly focus on Marshall Lee.
Pen officially addressed Marshall Lee as "Marshall Lee the Vampire King."
Marshall had five fingers when he gave Fionna the "Rock On" sign, instead of four fingers like Marceline.
Some of the artwork depicts him in a gray plaid shirt, which looks similar to the one Marceline wore in the episode "Video Makers".
Unlike Marceline, he has eyebrows.
As Marceline was with the original main cast, Marshall Lee appears to be the skinniest of the main genderswapped cast.
Community content is available under
CC-BY-SA
unless otherwise noted.