Upload any fan art of Slime princess, as long as it's appropriate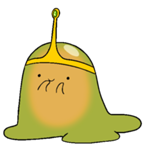 .
Her tiara resembles Princess Bubblegum's, which has the ability to block the telepathic power of The Lich. It is unknown if Slime Princess' has a similar ability.
She is Pendleton Ward's favorite princess because she has a "hot lady voice."
She is one of the princesses that Ice King finds to be his favorite as shown in "Princess Monster Wife".
She was once rescued from the Ghost Ship Vortex by Finn and Jake, shortly before the events of "The Eyes."